Live it up in Paris's trendy Marais quarter, in the days of Beaumarchais.
Hotel Caron de Beaumarchais, unlike other hotels, differs significantly from traditional hotel standards. Caron de Beaumarchais is one of those kind of hotel unusual, unique, out of the way. One of those kind of hotels that make travel memorable ; that convert a travel experience into a travel adventure. In the Marais, the most preserved quarter of the historical center of Paris, the hotel offers its guests a unique experience : the opportunity to stay in the Paris of the Age of Enlightenment, reviving the atmosphere of an 18th-century residence and feeling as though as they were travelling through time.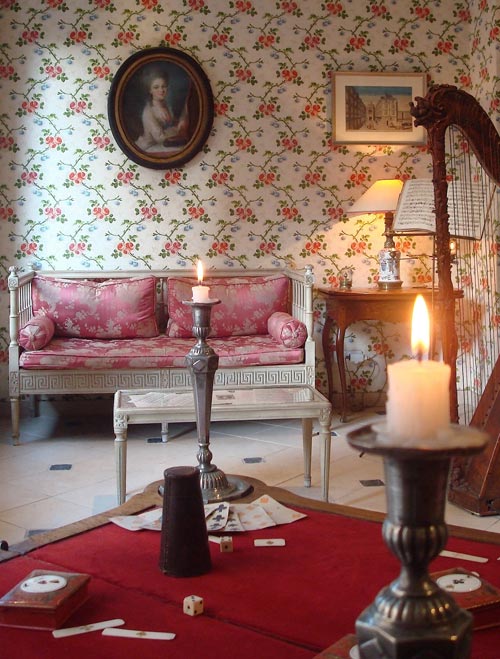 The lobby with the card table
Peak behind the cloak of time, a decor like a period piece.
A hotel with a story to tell
Only in the Marais can you truly experience the Paris of the eighteen-century, the Paris of intrigue, mystery and charm. 
As you settle into a stay at Caron de Beaumarchais, you are ready to live a baroque experience. An exceptionally fine 1792 piano-forte (reminiscent of the one used by Mozart when adapting "The Marriage of Figaro" for the opera), a rare Louis XV harp (an allusion to the music lessons given by Beaumarchais to the royal princess) are setting the tone of a special place, a kind of a chic hotel boudoir often mistaken for an antiquaire. « Is this a hotel? » is the question asked by many people passing by.'Unusual' is the answer and the key word.

The impression is authentically antique, just as one would hope to find in Paris. You will discover a fire place, candles and an impressive crystal chandelier in the small lobby, baize-topped card table are set up as though noble residents have just this minute left the scene. Transported to the stage of the Marriage of Figaro, you yourself will become an actor in an improbable play. You will feel like you've stepped back in time.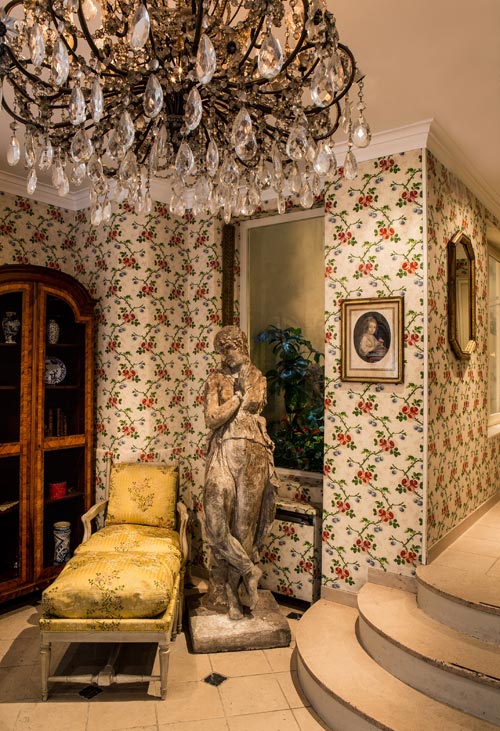 A view of the lobby
A hotel quintessentially french
An authentic parisian hotel experience
The Caron de Beaumarchais hotel offers its guests an atmosphere more than a decor or an historical reconstruction, it exemplifies a certain approach to life. Clients are invited to a sensitive experience of the French "art de vivre" in the 18th century: an outstanding era of joy, of life and elegance invented at this time in Paris. A throwback to a long-gone era of discreet refinement and elegant living.
More than a cozy, romantic boutique hotel in Paris, you are welcome guests in a private house, in a chic retreat between past and present. A different hotel experience, a travel escape back in time, helping you to discover Paris's history and enjoy French culture and art de vivre.