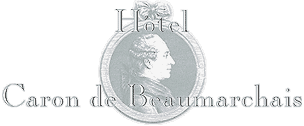 Hôtel Caron de Beaumarchais
Unusual hotel
You will be made welcome in an elegant
town house of the Age of Enlightment.
Transported to the stage
of the Marriage of Figaro,
you yourself will become an actor
in an improbable play.
You are back in time and together in the
heart of Paris, in The Marais.
You are the guests in a private house,
19 rooms only ensure you attentive service
and make for a very civilized stay.